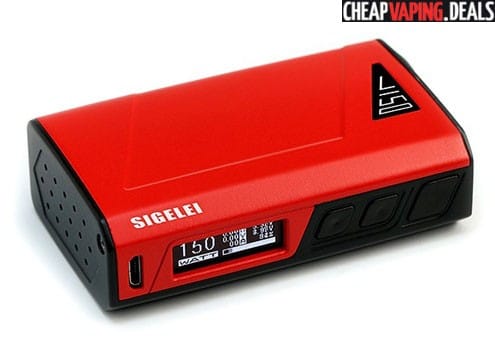 Here's fantastic deals on the brand new Sigelei J150 Box Mod.
Overview
The J150 is a brand new box mod in the long line of Sigelei Box Mods.   It features a massive 150 watt ouput which gets its power from an internal Li-Polymer battery.
The mod is made with zinc alloy and its design features a black & red body of which the contrast is striking and futuristic.  All corners are curved to further enhance the mod's look.    The control face features a large power and two smaller adjustment buttons which have a diamond shape for easy use and to avoid accidental firing.  The OLED can be found in the middle of the control face and features a detailed but simple menu with all the box mod's info.  At the top of the unit, there's a springloaded 510 connection which features stainless steel threads for longevity.
The J150 box mod has a whopping 150W of output power.  It is powered by Sigelei's most advanced chipset, almost identical to the Sigelei 213W and Sigelei Fuchai 213.  As a result, the J150 features several accurate temperature control (TC) modes including nickel TC mode, titanium TC mode and 3 stainless steel TC mode.  The device also features TCR mode for more accurate resistance coil wire settings and TFR mode, to be used with hybrid builds.  Temperature can be regulated from 200°F to 570°F with all coils that have a resistance above 0.10Ω.
The device gets its power from a dual internal Li-Polymer battery of which the voltage is individually displayed on the OLED.  The built-in battery combined with Sigelei's battery efficiency technology results in the best battery life and prevents frequent recharges.   There's also on board charging technology via the USB port at the bottom of the control face.  Charging occurs at a fast rate of 2 amps, so you'll be at full battery in no time.
The J150 is also filled with safety protections including high voltage warning, reverse polarity protection, overheat prevention, short circuit protection and battery imbalance protection.
Features
25mm x 80mm x 60mm or 0.98″ x 3.15″ x 2.36″
Weight 200g or 7.05oz
Made from zinc alloy
Stainless steel 510
Spring loaded center pin
Diamond shape ergonomic fire button
Futuristic red/black contrast with rounded contours
Uses dual Li-Polymer internal battery
USB charging
Individual battery voltage monitoring
Highest ouput: 150W
Voltage range: 1V to 7.5V
Temperature Control Range: 200°F to 570°F
TC compatibility: TFR, TCR, Ni200, SS, Ti
Smart OLED display
Wide range of safety protections
Video 
https://www.youtube.com/watch?v=-9tnumVf934
Total Views Today: 1 Total Views: 224