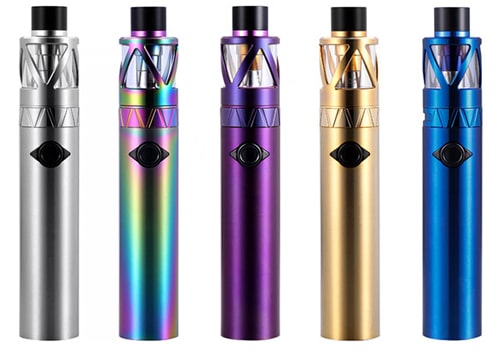 Here are cheap deals for the Uwell Whirl Kit.  This pen style vape kit comes in two versions: the Whirl 20 has a 700mAh integrated battery and is somewhat smaller than the Whirl 22 which is built with a more powerful 1600mAh internal cell and has a slightly larger profile.  Both kits feature a 2ml juice capacity, an exquisite design, 25 watts of power, a thin profile, a battery LED, micro USB charging and bright colors.
Overview
If you look at the design of the Whirl Kit, you can immediately see it is quite modern and the finishes are bright with color options of silver, iridescent, purple, gold, sapphire blue and black. This Uwell kit also is thin in profile with dimensions of just 22.2mm x 117.5mm (22) and the weight is also low at 295 grams. Inside the battery section at the bottom of the Whirl, you will find a 1600mAh integrated battery, or 700mAh on the Whirl 20, that should allow for pretty long vaping times at the maximum output of 25 watts. The battery can be recharged by plugging the unit into any USB outlet on the wall or a computer. An LED battery indicator can be found on the ergonomic fire button and it will flash a certain number of times as charge levels get lower.
Also included in this kit is a 2ml capacity tank that is made with a Quartz glass juice reservoir and is designed with an effortless top fill system for refills on the go. Inside the Whirl 22's tank, you will see the latest coils that use Nichrome heating elements are fire with a 0.6ohm resistance. With purchase of the Uwell Whirl 22 Kit, you will receive an extra quartz glass section, two Whirl coils that fire with a 0.6ohm resistance at 25 watts, a pack of extra o-rings, a micro USB charging cable, a manual and a drip tip cover to prevent dust from entering the device.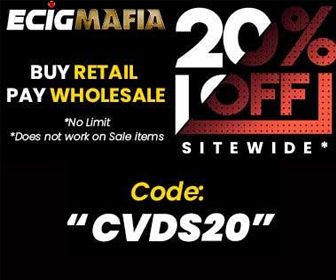 Uwell Whirl Features & Specifications
All-in-one vape system
Whirl 20 dimensions/weight: 20.2mm x 110.8mm/295g
Whirl 22 dimensions/weight: 22.2mm x 117.5mm/295g
Thin profile for easy transportation
Colors: rainbow, gold, purple, gold, sapphire blue, black
Integrated battery

Whirl 20: 700mAh
Whirl 22: 1600mAh
Battery LED
Micro USB charging system

Tank reservoir capacity: 2ml
Maximum output on full battery: 25W
0.6ohm Nichrome coils
Total Views Today: 1 Total Views: 239