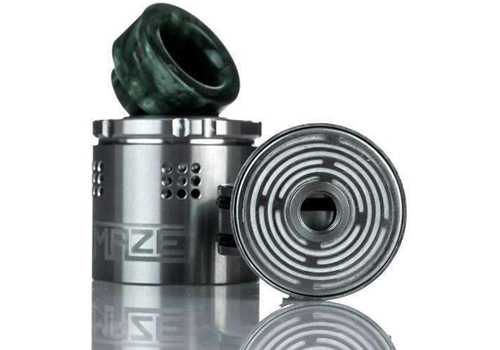 The Vandy Vape Maze RDA features compatibility for mechanical & regulated mods, one-of-a-kind Maze coils, a squonk pin to fill the 2ml juice well and also has a top fill system if you prefer dripping. The device is available in matte black, stainless steel, gold, and rainbow.
Review
Overview
What really sets the Maze apart from the crowd are its SS316L coils that have a 0.2ohm resistance and a wattage range of 50 to 100 watts (recommended from 70 to 80 watts).  The coils use Japanese organic cotton and have PEEK insulation to resist heat. Underneath the coils, you will find a 2ml juice well that connects via a BF pin to any squonk mod. If you prefer not to squonk, simply install the standard 510 pin (included) & center tube (included) to refill the RDA by dripping juice thru the center refill tube.
Airflow on the VandyVape Maze BF RDA is said to be smooth thanks to 45 external airflow holes that push air in all directions and provide adequate oxygen for really heating up the coil.  Additionally, airflow is unique because it also prevents juice from being directed into the mouthpiece, thus preventing spit-back.
Features
Dimensions: 22.5mm x 24mm
Weight: 90g
Stainless steel construction
Colors: rainbow, gold, grey, matte black
810 Resin drip tip
Detachable
Works with mechanical & regulated mods
Utilizes Maze Coils

SS316L material
0.20Ω resistance
Power range: 50W to 100W
Recommended power: 70W to 80W
PEEK insulated
Japanese cotton

2ml deep juice well

Refill with squonk mod via BF 510 pin (included)
Refill via center hole with standard 510 pin (included)

45 adjustable external airflow holes

Air travels to coils in all directions

Smooth vapor production
Adequate heating of the coil

Anti spit-back airflow

Included:

Maze Sub Ohm BF RDA
2 x Maze coils
Resin drip tip
510 squonk pin
510 standard pin
Refill tube
Accessories
Manual
Similar Products
Total Views Today: 1 Total Views: 504