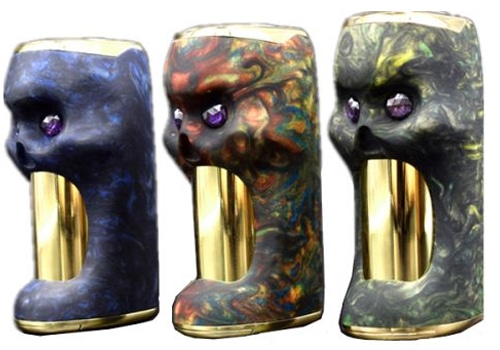 Overview
The Skull Mod by XOVAPOR features an exquisite skull design, LED lights inside the eyes, 21700/20700/18650 battery compatibility, a compact/ergonomic design, a resin finish, temperature control, 100 watts of power and a 0.90 inch TFT display.
What really catches the eyes right away is this mod's unique design. The mod utilizes a skull like theme and has two eyes that contain LED lights. While it is uncertain if the colors can be customized, the lights can be set to several different patterns. The Skull Box Mod is designed to be portable and, as a result, has dimensions of 93mm x 49mm x 42.5mm. It has an ergonomic form factor and should fit very comfortably in the hand. The chassis of this device is constructed from stable wood that has a resin finish with black, blue, yellow and red color options. On the control face, you will see a 0.9 inch TFT screen, but more information is not available regarding the menu or whether the screen displays colors.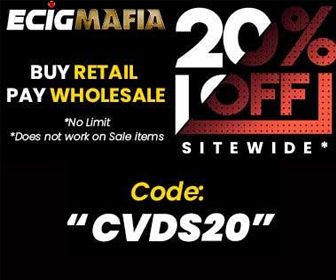 Powering the XOVAPOR Skull Mod is either a 21700, 20700 or 18650 battery. It is recommended that you utilize the more powerful 21700 cell for extended vaping times. The location of battery access panel is not listed either, but we imagine the unit has a bottom battery door. We will update this page when the info is available.
On the technical level, this mod is certainly not lacking at all. Available modes include power mode, three temperature modes (SS, Ti, Ni200), a TCR mode, full power mode and CLR mode. Temperature control tops out at 315 degrees Celsius, resistance bottoms at 0.1ohm while the highest power output is 100 watts. With purchase, you will receive one Skull Mod, an authenticity certificate, a warning card and a manual.
Skull Mod Features & Specifications
Dimensions: 93mm x 49mm x 42.5mm
Stabilized wood with resin finish

Red  resin
Blue resin
Yellow resin
Red resin

Skull theme
LED lights inside the eyes
Portable & ergonomic
0.9″ TFT display
Works with one external battery

21700
20700
18650
No micro USB charging system

Operating modes: Power/SS/TI/NI00/TCR/Full Power/CLR
Power output range: 10W to 100W
Temperature range:  200°F to 600°F or 100°C to 315°C
Resistance Range: 0.1? to 3.0?
Max output current: 33A
Total Views Today: 1 Total Views: 263