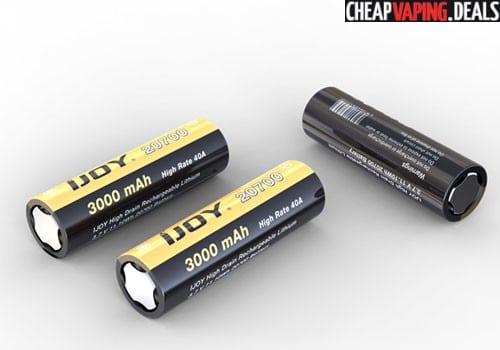 Here's an amazing price for iJoy 20700 Batteries for use with mods like the Captain PD270.
Overview
The first of the 20700 mods, such as the iJoy Captain PD270, are starting to hit the market place.  These rechargeable batteries were first introduced by Tesla motors and are now beginning to be used to revolutionize the vaping industry.  All 20700 vape batteries should comfortably fit into your existing Nitecore, Efest or other brand chargers for the purpose of recharging.  And, they will last longer than 18650 cells due to better performance at lower temperatures.
Named after its dimensions of 20mm x 70mm, the iJoy 20700 battery is larger than 18650 batteries but smaller than 26650.  It is a black/gold Li-Ni high drain cell that has a typical capacity of 3030mAh and a minimal capacity of 3000mAh.  The nominal voltage is 3.7V, peak voltage is 4.2V and cutoff voltage comes in at 2.5V.  The maximum continuous discharge current is 40 amps and the pulse discharging current tops out at 85 amps.  The temperature range is -20 to 60 degrees Celsius.  During the charging process, the battery's temperature will be 0 to 45 Celsius.
Overall, if these 20700 batteries are anything like Ijoy's 26650 cells, these are going to be high quality and durable. Best of all, they should exceed your expectations with the longest vaping times possible.
20700 Battery Features & Specs
Brand: iJoy
Type: Rechargeable high drain Li-Ni (lithium nickel)
Style: flat top
Dimensions: 20.4mm x 70.1mm (bigger than 18650 but smaller than 26650)
Weight: 61.7g
Color: black with gold
Peak voltage: 4.2V
Voltage cutoff: 2.5V
Nominal voltage: 3.7V
Rated capacity: 3000mAh
Minimum capacity: 3000mAh
Typical capacity: 3030mAh
Highest continuous discharging current: 40A
Highest pulse discharging current: 85A
20700 Battery Pictures
Total Views Today: 1 Total Views: 11,969