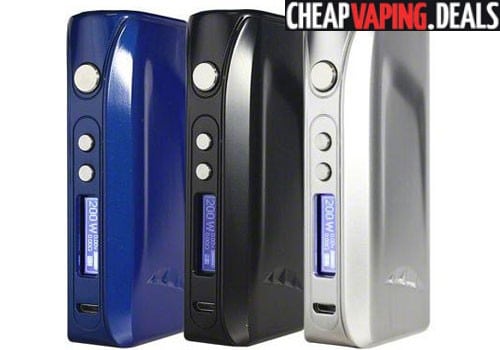 Update: The 
IPV 5 200W Mod
Has Been Discontinued – Check  Newer IPV & Other 200W Box Mod  Deals Below
|
All Mod/Kit Deals
Overview
Pioneer4You is just about to realease their brand new box mod: the IPV5.  The device is the next generation in the company's popular IPV series, which are known to be high quality box mods.  In comparison to the previous IPVs, this mod features a more massive output power of 200W and also has temperature control functionality.
The IPV5 has a distinctive look, silky finish and a layout designed to result in a pleasurable vaping experience.  The side of the IPV5 features a high definition LED screen with a simply to use and easy to read menu.   You can upload your own logo as well as personalize your favorite vape settings or update the firmware via the USB port.
The device is built with the latest technology and features a Yihi SX340 chip which is known in the vaping community to produce accurate power and temperature control.  And it supports many coil types including stainless steel, nickel and titanium.
The IPV5 runs on dual 18650 batteries which are installed in series and are hidden behind a magnetized battery door.  That means it should have enough juice to last an entire day, even for a heavy vaper.  It is also chargeable via the USB port.
Overall, the IPV5 seems like it is an incredible device.  With enormous power and accurate temperature control and with great aesthetics, this is bound to be another winner in Pioneer4You's IPV series.
Features
Designed by Pioneer4You
Most recent Yihi SX330-200 chip board
Power output: up to 200W
Ouput Joule: 10J to 120J
Temperature control functionality
Temperature control range: 212°F to 572°F or 100°C to 300°C
Works with stainless steel, titanium and nickel coils
TCR Value: 0.00050 to 00700: suitable for all types of wire
Resistance range power mode: 0.15Ω to 3.0Ω
Resistance range Joules (TC) mode: 0.05Ω to 1.5Ω
Ouput voltage: 1V to 7V
Input voltage: 6.4V to 9.0V
Output current: 1.0A to 45.0A
Input current: 1.3A to 45.0A
Powered by two 18650 batteries
Two-tone finish
Upgrade firmware
Upload logo
Magnetic battery panel
Low voltage protection
Low resistance protection
High input voltage warning
Output short circuit protection
Reverse battery protection
Temperature overheat protection
Video Review
Total Views Today: 1 Total Views: 404