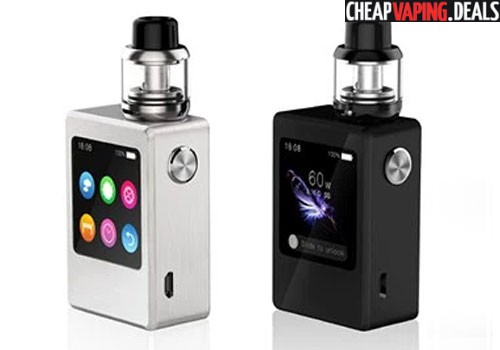 Update: The

SMY Touch Box Mini 60W Box Mod Has Been Discontinued – Check  Newer Touchscreen Mod or Kit Deals Below
Overview
The Touch Box Mini is a brand new 60W touch screen box mod that is the small version of the Touch Box 100W by SMY. Compared to its larger brother, both the hardware and firmware have been upgraded resulting in better touch response and more accurate temperature control.
The Touch Box Mini measures only 46mm x 68mm x 26.5mm, so it is very small and lights.  You can simply put it in your pocket or purse without any hassles.  The device is made from zinc alloy and is available in either black or white.  On the front, you'll see the 1.54" high resolution touch screen which features a menu similar to the ones found on smart phones and tablets.  The unit is very easy to operate with menus and adjustments easily accessed by swiping or touching.
The mini mod was designed to use dual 18350 batteries to ensure the form factor could remain small.   The removable cells are stored behind a panel on the back that is kept in place by two powerful magnets, yet is easily accessed.
The power range of the mini mod is 1W to 60W,  temperature can be varied from 200 to 600 fahrenheit as long as a nickel or titanium coil head is installed.  Atomizers with resistance of just 0.05ohm can be fired in variable temperature mode and 0.1ohm in power mode.  Accessing the different modes is very easy. You simply select the work mode icon on the home screen and choose either VW, SS, Ti or Nickel operation.
Video
Features & Specs
Dimensions:  46mm x 68mm x 26.5mm
Weight: 118g
Tiny and portable
Zinc alloy construction
Colors: stainless steel or black
510 threaded connection
Easy battery door
Powered by dual external 18350 batteries
Micro USB charging
High resolution 1.54″ responsive touch screen
Simple to operate
Set date/time
Power mode ouput range: 5W to 60W
Temperature control range: 200°F-600°F or 100°C-300°C
Variable temperature supports nickel and titanium wire
Resistance range TC mode: 0.1Ω to 1Ω
Resistance range power mode: 0.1Ω to 3Ω
Voltage output range: 0V to 9V
510 threading connection
Houses dual 18350 batteries (batteries sold separately)
Micro-USB charging port
Total Views Today: 1 Total Views: 242