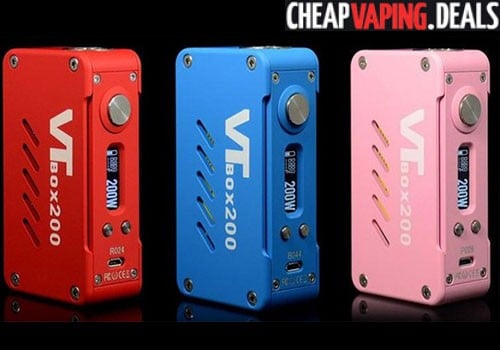 Update: The Vapecige VTbox 200 DNA 200 Box Mod Has Been Discontinued – Check  Newer Evolv DNA Mods Below
Overview
The Vapecige VTBox200 is the newest temperature control and high wattage box mod powered by Evolv's DNA200 chip.  It is available in red, black & red, black & white, pink, tiffany blue and blue.
The mod is solidly built that has a high quality rubberized finish.   It's a little heavy, but that's because of its powerful battery which should allow for all day vaping, without charging.    The buttons are made of aluminium and don't rattle.  The top of the device features a stainless steel 510 connection with a springloaded center pin.  The pin has excellent spring on it so most atomizers will fit very well. The back cover is held down by magnets and is detachable.  The VTBox200 features a 0.91 inch DNA screen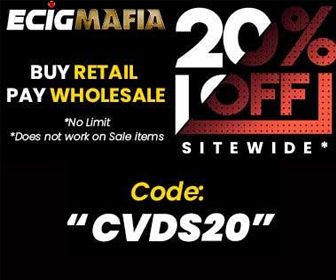 The VTBox200 is powered by an internal removable 1800 mAH lithium battery which is optimized for balanced battery charging.  The device is charged via the USB port which also doubles as the firmware upgrade port or to customize the device via desktop software.  The device is said to fully charge in less than 3 hours.
The VTBox 200 has a massive power output of 200W and has accurate temperature control in the range of  200°F to 600°F.  Chance are high that the mod will be able to fire your atomizer or sub ohm tank as its lowest resistance is 0.1Ω.  All DNA 200 box mods have accurate temperature control and power output.
The DNA 200 chip in the VTBox200 has patented wattage control, overheat protection, amazing menus, clean OLED Screen surrounded by Evolv's buttons and enhances battery life while preventing overheating.
Overall, the VTBox 200 has amazing build quality and since it is powered by the best chip on the market, it's going to have massive power and accurate temperature control.
Features & Specs
Made of T6 senior aviation aluminium
High quality rubberized finish
Dimensions: 99mm x 32mm x 55 mm or 3.9″ x 1.3″ x 2.2″
Weight: 0.30 kg or 10.6oz
Stainless steel 510 connection
Springloaded pin
Authentic DNA 200 chip by EVOLV
Power mode range: 1W to 200W
Voltage output: 0.5V to 9.0V
Lowest resistance: 0.10‎Ω
Temperature control range:  200°F to 600°F
Atomizer lock functionality in TC
Internal 1800 mAh replaceable lithium battery
USB charging
Removable magnetic back cover
Synchronous Rectification forbetter battery life and reduced heat
Upgrade firmware
Use escribe to customize settings
Many colors and color combinations
Video Review
https://www.youtube.com/watch?v=TCdtlh7uu_I
Total Views Today: 1 Total Views: 226