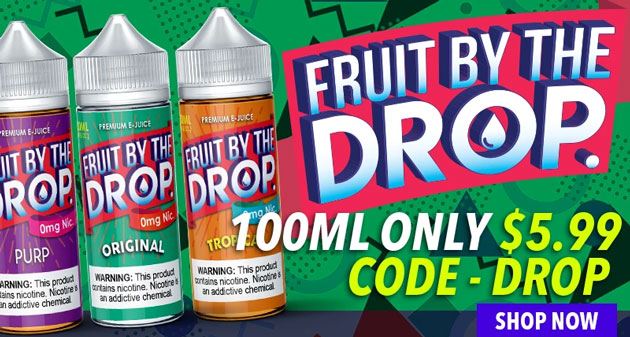 Fuggin Vapor has discounted their 100ML bottles of Fruit By The Drop E-Liquid.  For a limited time, you can get these vape juices for only $7.00 per 100mL. Choose from these flavors: fruit by the drop, fruit by the drop purp and fruit by the drop tropical.
Available Flavors
FRUIT BY THE DROP ORIGINAL: a fruity and sugary e-juice treat that reminds you of those endless strips of gummy candy that you indulged in for hours when you were a kid. Succulent strawberries and sour blue raspberries join forces to tease your taste buds with the glorious flavors of your childhood.
FRUIT BY THE DROP TROPICAL: a mouth-watering candy-inspired treat that delivers the juicy flavors of the islands. This vape juice is a tribute to those long strips of gummy candy that never failed to hit the spot when you were young. Infused with the juices of pineapples, mangoes and zesty citrus fruits, it's guaranteed to satisfy.
FRUIT BY THE DROP PURP:  a sweet and sour candy flavor that is inspired by those ridiculously long gummy strips from the old days. This candy flavor is infused with the flavors of white grapes, honeydew slices, watermelon chunks and strawberries. This vape juice delivers a blast of sourness that makes each puff unforgettable.
Related
Total Views Today: 1 Total Views: 52