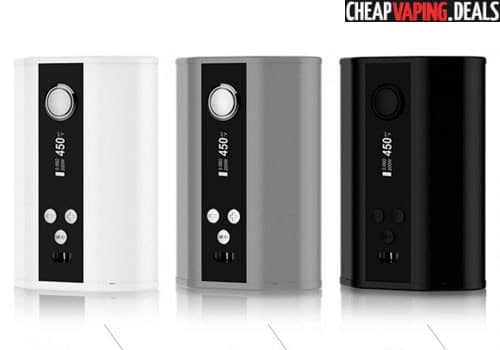 Eleaf IStick 200W
The Istick TC200W by Eleaf is a new affordable high power box mod to hit the vape market place.  It looks very similar to less powerful versions of the Istick, but features a bigger chassis to accommodate three batteries.  It can power atomizers up to 200W, features a temperature control system and is said to allow for extended vaping without a frequent necessity to recharge.
Review
Similar Products
Design & Appearance
The device comes in at 57mm x 37mm x 84mm and its shape may make you think of the RX200.  It has a metallic finish that makes it look sleek and is available in white, grey or black.  Its smooth structure makes it feel pleasant when gripped.
  At the top of the device, you will find a stainless steel 510 connector with a springloaded center pin to for easy adaptability with a wide range of atomizers. On the front of the device, there's the OLED screen which neatly organizes all the box mod's current information such as battery levels, resistance, wattage and temperature.
Wide Range Of Operating Modes
With 200W of maximum output, the TC200W  has the ability to maximize vapor production from your tank or RDA.  There's also temperature control technology which can be adjusted in the range of 200℉ to 600℉ and will work with many types of coils, including nickel, titanium and stainless steel.
Moreover, you can set the Temperature Coefficient of Resistance (TCR) in three alternate memory slots.  TCR  allows  for manual input of the resistance value for a particular coil's wire which results in more precise variable temperature vaping. The minimum atomizer resistance the Ileaf Istick 200W can fire at  is a very low 0.05Ω.  This ensures the mod will work in conjunction with a great number of atomizers, subtanks or builds.
Powered by Triple 18650 Cells
To make certain that the Istick 200W TC can achieve and maintain the massive 200 watts, it is powered by three 18650 batteries.  The cells are stored behind a unique battery cover that flips open. Simply slide the switch on the bottom panel and it will pop up for simple battery removal.
  For faster charging, it is always recommended to utilize an external charger.  But, the mod does feature on board charging via its USB port, with the included cable.  To keep up with future technologies, the firmware is also upgraded via the USB port.  Simply connect the Istick 200W to your PC and download the software from the Eleaf website when an upgrade is released.
Multiple Safety Protections
To allow for safer operation, a protection system is also built-in to the box mod.  Dual circuit protection uses both hardware and software to prevent the batteries from over-discharging, over-charging and going over current.  And, there's special reverse battery protection on its circuit board in case the cells are inserted the wrong way.
Get more information on the Eleaf Istick 200W box mod here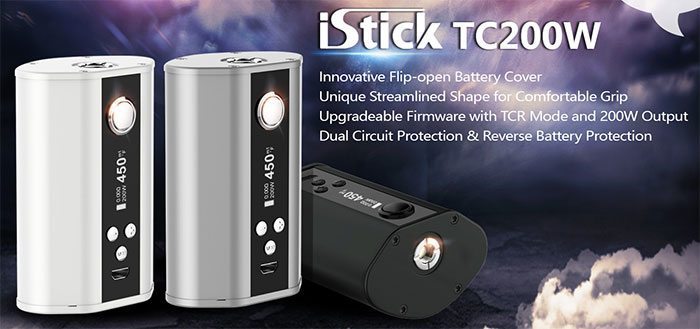 Features & Specs
Dimensions: 34 mm x 84mm x 57mm
Weight 250g
Metallic finish
Ergonomic
Power output range: 1W to 200W
Temperature range: 200°F to 600°F or 100°C-315°C
Power mode resistance range: 0.1Ω to 3.5Ω
Variable temperature resistance range: 0.05Ω-1.5Ω
TC mode works with: SS, Ti, SS and three TCR modes
Resistance range: 0.05Ω-1.5ohmΩ (TC mode) / 0.1Ω-3.5Ω
Powered by three external 18650 batteries
Unique flip-open battery cover for easy battery swap
Dual circuit protection
Reverse polarity protection
Stainless steel 510 threaded connection with springloaded center pin
USB charging port
Firmware upgrades
Total Views Today: 1 Total Views: 223