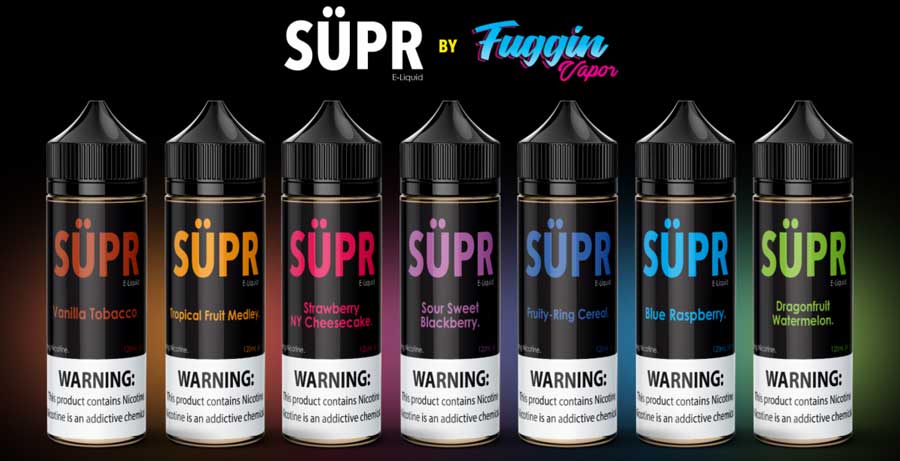 Fuggin SUPR: FDA PMTA Compliant Vape Juice
Here are cheap deals to buy SUPR by Fuggin Vapor e-liquids and vape juices.  With the goal of providing the highest standard of e-juices that are in full compliance with the current FDA regulation, the new SUPR line of vape juices was developed.  This line features 7 regular e-liquids and 3 nic salt-based juices that come in either 120mL or 30 mL gorilla bottles. The regular line has 0mg, 3mg, or 6mg nicotine options or 30mg or 50mg strength for the nic salts.
Update March 30, 2022: it looks like Fuggin SUPR is getting difficult to find in stock due to FDA regulations. So, order fast or you may miss out.
Deals
Flavors
Strawberry NY Cheesecake: Creamy New York cheesecake with strawberry syrup and finished with ripe, fresh strawberries. This one is sure to take care of your dessert cravings. When you first take a puff, you'll immediately taste cake flavor, while notes of strawberries and syrup will hit you upon exhale.
Sour Sweet Blackberry:  This hard candy flavored e-liquid is an ideal vape for the spring or actually anytime of year.  It is the perfect fusion of berry candy flavor that is both sweet and sour.
Dragonfruit Watermelon: A cool and refreshing beverage flavored fruit vape.  Each puff brings out notes of watermelon, peach, pineapple, and dragon fruit.  This juice could be described as an overall tropical fruit explosion.
Fruit-Ring Cereal: A perfect combination of citrus fruit cereal and a hint of milk.  It's fruity on the inhale with a splash of cream taste upon exhale.
Tropical Fruit Medley: This juice combines exotic flavors for a tropical treat.  On the inhale and exhale, you are sure to note fresh funky tropical fruits for a mouthwatering experience.
Blue Raspberry: An amazing medley of sweet/tangy blue raspberry to satisfy your taste buds.  You could compare it to a blue candy-style slushie drink that will leave you refreshed after each puff.
Vanilla Tobacco: With inhale, you'll taste nutty, smoky tobacco flavors and a hint of vanilla.  It's rich in flavor, yet splendidly sweet on exhale.
Blue Rasberry Salt: Each puff provides a sweet dose of icy raspberry slush that will leave you refreshed.
Strawberry Mango Salt: A tropical cocktail of fresh, ripe berries and sticky golden nectar to leave your spirit rejuvenated. The ideal mango and strawberry vape.
Watermelon Kiwi Salt: A fusion of watermelon, kiwi, and candy.  First, you will notice tropical kiwi flavors, followed by a gush of watermelon for a smooth, mellow experience.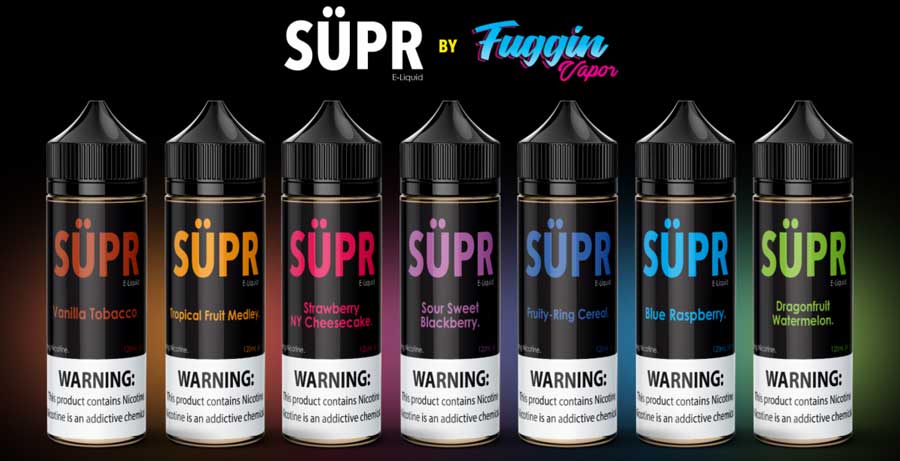 Similar E-Juice Deals
Total Views Today: 1 Total Views: 2,582