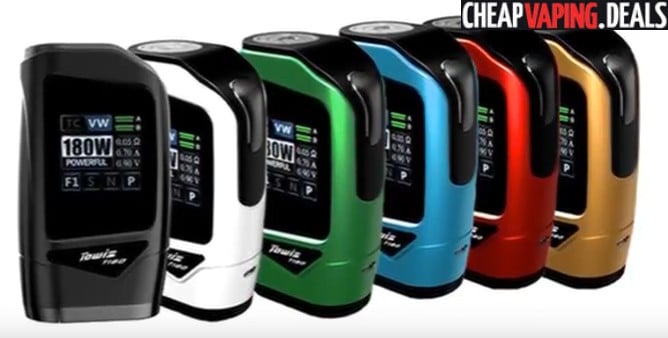 Update: This Item Is Out Of Stock Everywhere – Check  Similar Touchscreen Mod or Kit Deals Below
Here's a few discounts for the Hcigar Towis T180 Box Mod with color touchscreen.
Video
Overview
The Towis T180 is the first touch screen box mod from Hcigar.  It features 180 watts of output, temperature control modes, a modern design, a large color touch screen and is built with the latest XT180 chipset. Few detailed specifications have been released so far about this new mod, but we will update this page as they become available.
The unit is portable with dimensions of just 52mm x 88mm x 26mm and it's light with a weight of only 155g.  The design looks to be very modern and ergonomic thanks to curved edges.  Available colors include black, white, green, blue, red and gold. At the top, there's a stainless steel threaded 510 connector that is sure to be spring-loaded for flush atty installs.  The side power button has a curved shape for easy access and mod firing.
The full color touch screen on the front of the Towis T180 is said to be convenient to use and responsive to the touch.  The menu has many vape statistics such as mode, power, resistance, temperature, amperage, voltage and two battery bars. Switching modes looks to be as easy as touching the "VW" or "TC" icons or changing the power output level may be as effortless as pushing the wattage indicator on the menu.
Powered by dual 18650 cells, the batteries can be recharged via a micro USB port on the side.  The battery bay is located on the bottom and has a sliding hinged cover that flips open for fast swapping of the cells.
To ensure the Towis T180's precise operation, Hcigar built the device with a brand new XT180 chip board. As a result, the mod's power can be varied from 5 to 180 watts, the lowest atomizer resistance capability is just 0.05ohm and the unit is bound to be compatible with all coil element types in temperature control mode.  For safety, there's built-in high temperature, low resistance, reverse polarity and short circuit protections.
Towis T180 Features & Specifications
Dimensions: 52mm x 88mm x 26mm
Weight: 155g
Small, light, transportable
Ergonomic urved form factor
Colors: black, green, white, blue, gold, red
Large touch screen

Full color
Convenient menu

Built with latest XT180 chip set

Power output range: 5W to 180W
Minimum atomizer resistance: 0.05Ω
Power mode taste modes (powerful, …)
Temperature control

Powered by two 18650 cells

Bottom battery bay
Hinged door flips open
Micro USB charging system

Safety features

Short circuit protection
Reverse polarity protection
High temperature protection
Low resistance protection
 Pictures
Total Views Today: 1 Total Views: 223