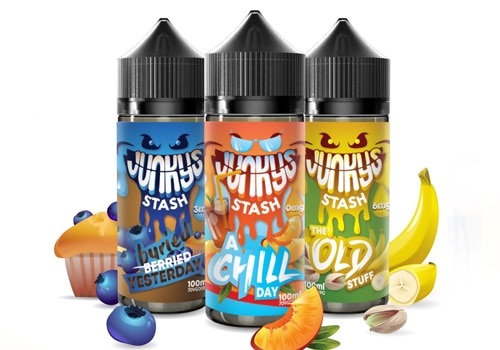 Junkys Stash E-Juice Vape Deals
Overview
Junkys Stash E-Juice 100ML is available in three fruit flavors and is said to be gourmet e-liquid. All Junkys juices have a VG/PG ratio that comes in at 70/30, are delivered in 100ml bottles and have 0, 3 and 6mg nicotine options. And, only the highest quality ingredients are used to ensure expectations are met.
Flavor Options
A Chill Day is a Southern peach tea flavored e-juice that combines sun-ripened peaches with a hint of vintage tea for a full-bodied taste.
Buried Yesterday  is a tasty fusion of blueberries with a touch of fluffy muffin inside. What could be better than a warm blueberry fruit vape?
The Old Stuff  is a banana nut flavored juice that perfectly combines sun-ripened bananas with pistachios that results in a nutty vape aftertaste.
Related Juice Deals
Total Views Today: 1 Total Views: 52