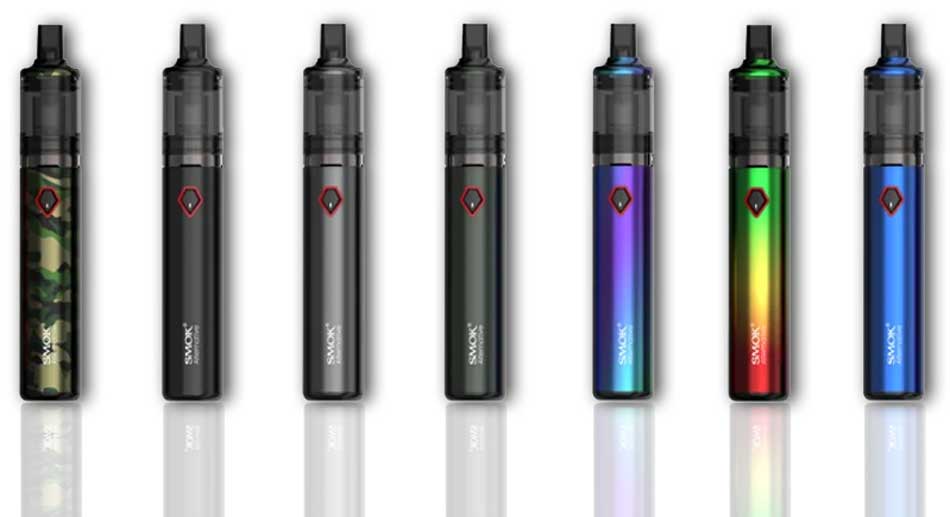 Smok Altha Burst: 1500mAh/40W Variable Wattage Vaporizer with 0.4ohm Atomizer
Here are cheap deals to purchase the Smok Altha Burst at a low price.   This wax vaporizer kit features a 1500mAh battery, several safety protections, 4 wattage settings, a single power button, a patented drip tip, a transparent atomizer, 0.4ohm quad coils, a patented mouthpiece for dripping, and 14 different finish options.
Overview
The Smok Altha Burst Wax Vaporizer kit consists of a powerful 1500mAh battery with a 0.4ohm tank-style atomizer.  With a fashionable appearance, there are 14 different color options: black tarnish, black, midnight green, prism blue, prism rainbow, rosto color, camouflage, pearl white, space grey, turquoise, hermes orange, black with green spray, and black with red spray.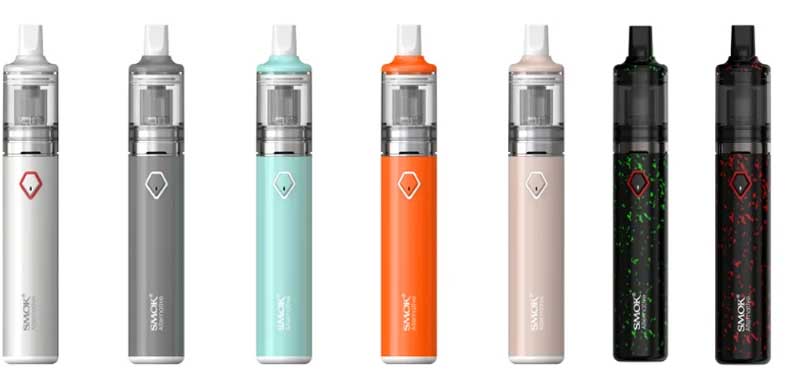 The Altha Burst works with a 1500mAh battery that is recharged via a US port and features four different wattage levels for versatility: 25 watts, 30 watts, 35 watts, and 40 watts.  For safety, the Smok Altha Burst Vaporizer will cut off if is engaged for more than 12 seconds and firing is done by way of a single integrated button.  At the top of the battery, there's a transparent atomizer, so you can see the material vaporize as you take a puff.  Moreover, this atomizer tank is constructed from PEEK material, so you'll never burn your fingers. And, you can remove this atomizer for cleaning and maintenance.  Inside the chamber, there's also a 0.4ohm NiCr quad coil, but unfortunately, this head is not replaceable, so you will have to buy a new atomizer when the coil has met its lifespan.  Best of all, the patented mouthpiece of the Smok Altha Burst Wax Vaporizer permits dripping and you may also rotate it to set your favorite airflow.
Smok Altha Burst Wax Vaporizer Features & Specifications
Dimensions: 22mm x 22mm x 134mm
Colors: Black, Dark Tarnish, Midnight Green, Prism Blue, Prism Rainbow, Rasta Color, Camouflage, Black with Green Spray, Black with Red Spray, Pearl White, Space Grey, Turquoise, Hermes Orange, Misty Rose
Patented multifunction drip tip
510 threaded
PEEK insulated atomizer
1500mAh integrated battery
USB charging system
4 power levels: 25W/30W/35W/40W
Single fire button
10s over-puff protection
Transparent atomizer
0.4ohm Quad coil
Easily disassemble for maintenance
In The Box
With purchase, you will receive the Altha Burst 1500mAh mod, the Altha Burst Atomizer, a USB charging cable, a manual, and 8 spare o-rings.
Related
Total Views Today: 1 Total Views: 347